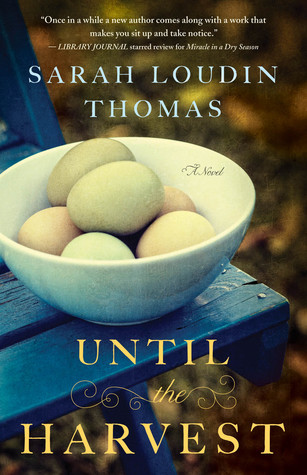 When a family tragedy derails Henry Phillips's college studies, he's left unmoored and feeling abandoned. Although Henry tries to find escape in bad company, the only things that can tamp down his anger and grief are the family farm, his fiddle, and sweet but unusual pre-teen Mayfair Hoffman.
Unfortunately, Mayfair's older sister, Margaret, with the freckles and cute, turned-up nose, has the opposite effect. Worse, she's his grandmother's housekeeper and helper, so she's always around and ready to push his buttons. At first he thinks she doesn't care about his loss, before beginning to understand she's facing her own struggles.
Mayfair's health and unique gift sit at the heart of those worries, and Henry and Margaret soon find themselves relying on each other as both Henry's future and Mayfair's life are put at risk.
Cafe Lily's Review:
This book is the follow up to Miracle In A Dry Season, which was the author's debut novel. You can read my review of that
here.
Until The Harvest stands well on its own, but I suggest reading the books in order, so you have a better background on some of the repeat characters who appear in this second book.
I really like that this book gently reflects on the first, but does not leave the reader confused, if they haven't read the first one. Once again, I enjoyed the characters with all of their flaws and downfalls. After reading the first book, I was excited for this one to come out and Sarah did not disappoint!
Though this is Christian novel, it is not overly "preachy" and the characters are not squeaky clean. The author portrays very real struggles that every reader will be able to identify with. I hope there is a third book in this series, that continues the story of Wise, West Virginia and the people who call it home.